Punk poet / funk-rock machine, laying down grooves and moves with a slight attitude. Helping you to celebrate being alive and to stay cool forever.
About me:
I believe the best music is made with intent of expressing authentic thoughts and feelings. Whether aggressive, introspective, silly or serious, I provide people with the truth expressed through sound and words in gritty and glorious detail.
I decided to learn to play the guitar after seeing a friend perform at a school party and realising that I wanted to write great songs. Despite failing music in school and desperately trying to avoid being a frontman for many years, over time I learned that I have the ability to connect with people by sharing my perspective on life and music.
My sound has been compared to a cross between Elvis Costello, the Gang of Four, The Jam and the Virgins. Whether aggressive punk, danceable funk or cheerful acoustic songs, the result is music where the sounds and words come together to tell unique stories.
I'm currently performing in London both as a solo acoustic artist as well as in a three piece band. My first single is a punk rock manifesto called The Art Of Not Giving A Fuck. It's available on all major streaming and download platforms including Spotify and iTunes.
Collected media and press coverage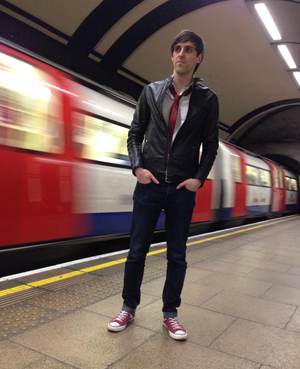 Passion is aggression,

with positive intention.

I turn you on with a question.

How do you like that?

– Passion is Aggression